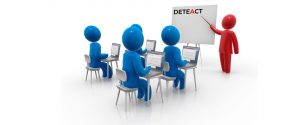 Our Awareness Training services listed by an analytic center Anti-Malware.ru. They conducted an overview of Security Awareness market in Russia and worldwide (published in russian).
Deteact Awareness is a part of our integrated continuous testing and monitoring service along with threat hunting and vulnerability management.
We are developing a manual approach and analytical solutions to provide services which cannot be easily automated inside the company.
Detect the weaknesses and act to eliminate them!
Contact us on website or email [email protected] for service inquiry.
Subscribe and stay tuned for updates and researches.
«Предупрежден — значит вооружен» теперь можно перефразировать в «Осведомлен — значит защищен». Мы проанализировали рынок…

Опубликовано Anti-Malware.ru 27 апреля 2018 г.