2020 was rough. But to be fair, not for most of the IT companies. We've almost managed to triple our revenue (162+% YoY growth) and scaled our team from 3 to 9 people.
That kind of raise is an ambitious goal in any year, much less 2020.
Below are some of our key achievements in 2020: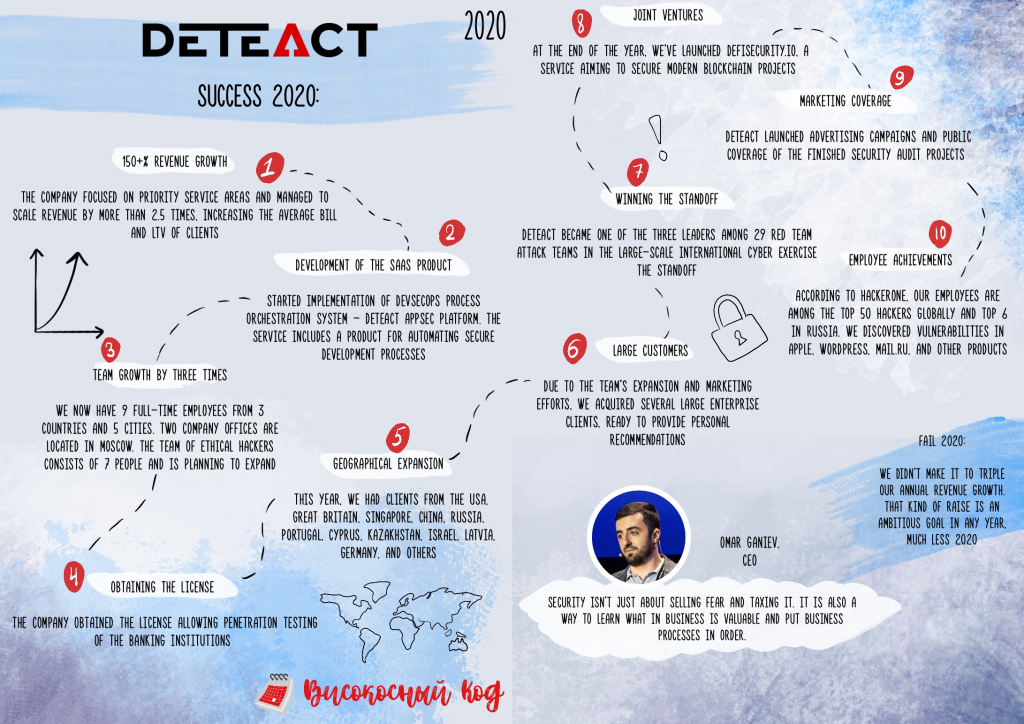 We're going to sustain this path in 2021 and become a bigger company with the same hacking spirit and values.
We value our integrity and passion for a deep understanding of cyber threats.
Security isn't just about selling fear and taxing IT. It is also a way to learn what in business is valuable and put business processes in order.

Omar Ganiev, CEO
While others hire salesmen and generate FUD, we hire researchers and fix the vulnerabilities
2020 facts about DeteAct
The company focused on priority service areas and managed to scale revenue by more than 2.5 times, increasing the average bill and LTV of the customers.
Development of the SaaS product
Started implementation of DevSecOps process orchestration system – Deteact AppSec Platform. The service includes a product for automating secure development processes.
Team growth by three times.
We now have 9 full-time employees from 3 countries and 5 cities. Two company offices are located in Moscow. The team of ethical hackers consists of 7 people and is planning to expand.
The company obtained the license allowing penetration testing of the banking institutions.
This year, we had clients from the USA, Great Britain, Singapore, China, Russia, Portugal, Cyprus, Kazakhstan, Israel, Latvia, Germany, and others.
Due to the team's expansion and marketing efforts, we acquired several large enterprise clients, ready to provide personal recommendations.
DeteAct became one of the three leaders among 29 Red Team attack teams in the large-scale international cyber exercise The Standoff.
At the end of the year, we've launched DeFiSecurity.io, a service aiming to secure modern blockchain projects.
DeteAct launched advertising campaigns and public coverage of the finished security audit projects.
According to HackerOne, our employees are among the top 50 hackers globally and top 6 in Russia. We discovered vulnerabilities in Apple, WordPress, Mail.Ru, and other products.
Get a Solution
To test your company's security, you can employ one of the best hacker teams, as proven by various competitions. Please contact us for penetration testing services.
We perform both standard security assessments and penetration testing and more in-depth research, consulting, and building secure development processes.